My name is Pia and I am, just as the first person who was featured by Sabrina, a German book blogger. Even if I am not a born bookworm because I only started reading more books shortly before I started my blog in 2010, it is now a big part of my life. I love to share my thoughts about things on my centerpiece
Herzensbücher
. Blogging helped me trough a lot.
But enough said about me, I am here to recommend you some books. To be honest, I don't keep any of the books I have read, so it might not remember all of the books I would recommend to everyone. However, there are some books that knocked me off. And these are the books I want to talk about.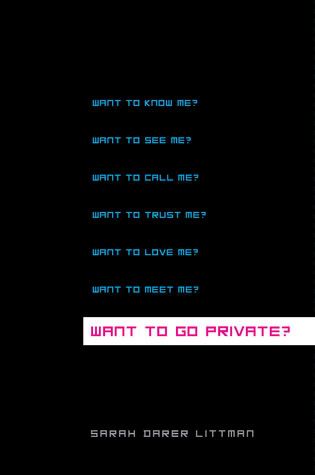 So there is
Want to go private?
by
Sarah Darer Littman
. This book takes place in a small town, where a girl named Abby is starting her highschool. Many things are going to change, which leads to that she feels very alone. Even her best friend seems to be busy with other things than her.
So she starts chatting with an anonymous guy called Luke. She shares with him very personal things and soon falls in love with him. But since Abby is seeing things through rose-colored glasses, she doesn't see that Luke might not be what he seems to.
I'm a big fan of writing styles that don't need big, fancy words to inspire the reader. This is one thing that Sarah Darer Littman did very well.

Let me show you one of my favourite quotes:


"...I grab my laptop and log on to ChezTeen.com. Within minutes, I'm surrounded by friends, even though I've never met any of them. There, I can pretend that my first day of school was fantastic, because no one is going to know anything different. I can be anyone I want to be when I'm online and I don't even have to wear makeup.

"
There's of course more I liked about the book. The story of the book is pretty scary, because it makes you think about netsafety and how you act on the internet.
Want to go private?
is a book mixed with thriller elements and, surely, some love story elements.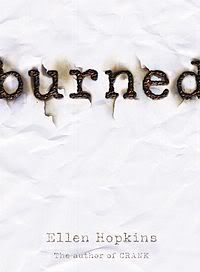 Ellen Hopkins
is one of my favourite authors. A while ago, some German book bloggers raved about her. That was a time in which I didn't read English books, so I was pretty scared to read that, because she writes in verses.
But I was really wrong to be so careful. Right after I started her novel Burned, I read it in a full afternoon. Ellen Hopkins is just an incredible good author.

Pattyn's history was pretty tragic, but it was told so nicely. She is a mormon and questions her religion after she dreamed about a guy from her school. Her father sends her away, after her actions became untolerable for him and then she comes to her aunt J. There she gets to know a guy..
page 237 Now there are those who might try to take that from you, but you don't have to give it away. Keep on shining, Pattyn. And when the right young man comes along, he'll love you all the mor for giftin' this sad planet with your light. S.277 It was a moment to read about in a romance novel, to see on a movie screen. All that was missing was for him to turn his face toward mine, tilt my chin, and part his sultry lips... But even without the kiss, it was magical

Just to get that clear: I'm not a crying person when I read, but this book really did bring me to crying in waterfalls. It was so beautiful! You have to read it!
I haven't read any of her other books, so I can't say much about them, but I think that they are going to be just as great as Burned.



I can recommend other books to you, but I'm sure you heared about them already. I will give you a short list with them:
Lockdown by Alexander Gordon Smith
Divergent by Veronica Roth
Between Shades Of Gray by Ruta Sepetys
Delirium by Lauren Oliver
Wither by Lauren Destefano
Dearly Departed by Lia Habel
Thanks Pia for this wonderful post. I love that your blog helped you through a lot. And it's fascinating, but also a bit scary, that you don't keep any of the books you read. A serial rereader and book hoarder like me makes that speechless.